About ALO
Try all of our great aloe vera infused beverages and snacks. ALO® Drinks are available in popular flavor combinations that suit any taste or mood. Something for everyone, all with the wonders of aloe vera.
New to the ALO® family is the world's first dried aloe vera fruit snacks. This first-of-its-kind taste sensation combines dried aloe vera with exotic Asian fruits.
ALO Drinks & ALO Snacks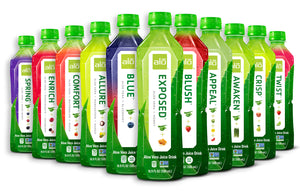 Goodness From Inside Out
ALO provides 5 different products lines in 18 different flavors to boost your active and healthy lifestyle. ALO Drink delivers a signature whole-pulp experience in 4 of our product lines in a variety of flavors: ALO Original, ALO Light (half the sugar and calorie content as ALO Original), ALO Organic, and ALO Essentials. ALO COCO uses a minimal amount ingredients – ALO COCO (coconut water and aloe vera juice) and ALO COCO Watermelon (coconut water, aloe vera juice and watermelon juice).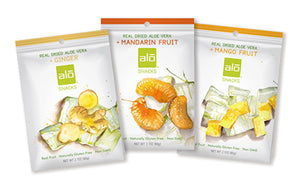 The UNtypical Snack For Your UNtypical Life
We've crafted the UNtypical snack for your UNtypical life. You crave doing things your way. We want to inspire you to embrace different.
It's the world's first aloe vera dried fruit. That's pretty UNtypical. But that's not all. The magic is in the flavors. UNtypical aloe vera dried fruit is paired with exotic flavors of Asia to create the perfect snack accompaniment for active and healthy lifestyles.